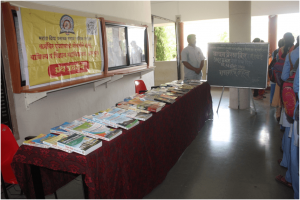 The Central Library of MVP'S, K.P.G. Arts, Commerce and Science College was established in the year 1981.Since than the library has made consistent progress in terms of our collection and services provided. The library is housed in an area of 1200 sq.ft. The library is open from 8.00 a.m. to 6.00 p.m. on all working days. The collection comprises of Books, Textbooks, Reference Books, Books for competitive exams, Journals and Newspapers. It has geared itself into the new era of Library and information Science by procuring digital collection like E-resources like E-Journals, E-Books. The Library is fully automated by using IT Soft "Autolib" library management software with bar-code technology. Newspaper Clippings of the activities carried out during the year are maintained in the library. The library supports the extracurricular activities carried out by the college. It aims to enrich the information services. We hope to promote the library as a vibrating learning unit.
SPECIAL FEATURES: 
Fully computerized Library with IT Soft " Autolib" library management software
Online issuing using Bar-Code technology.
Open access Library.
Orientation for new students.
Internet Facility.
Digital Library in which E-books and E-Journals can be accessed which are freely available and subscribed under Inflibnet N-List Programme.
Books for competitive exam.
Inflibnet N-List membership
Current awareness service.
Reading Room
Book Exhibition are organized occasionally.
Suggestion Box.