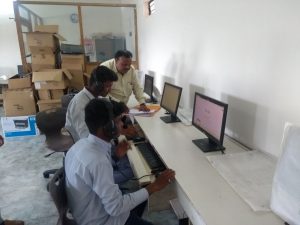 Introduction:
The department of English is striving for enrichment of the language and providing in depth aesthetic knowledge and an eagerness to appreciate the language in its ingenuity to the students who come here to avail themselves of the course. Numbers of the students from rural and tribal area come for graduation. The computer laboratory has several latest PCs with internet facilities for the use of faculty. Department has the latest configured computers with all necessary software's are installed on it. The laboratory with the state-of-the-art audio equipment to aid in imparting language skills. The laboratory is effectively utilized by students for various self-enhancement and soft skill development activities.
Aims:
The aim of the Language laboratory is to provide students a platform to enhance English language skills, communication skills.
Objectives:
To equip the students with good communication skills.
To prepare them for interviews and future job environments.
To train the students in the art of conversation and discussion.
Importance:
Laboratory proves beneficial for those students who are poor on the use of English language. Students from rural and tribal areas who are generally weak in English can sufficient ear training in the language lab. The confidence-building among students for interaction and presentation in English. It is useful to enrich students' language learning experience.